Combining tradition with innovation.
The Barberis Cononico family has founded the VBC company in 1663. Inspired by the great textile traditions, while always being a step ahead on traditional tailoring. Maintaining classic values with the drive to innovate and develop with a specific focus on wearability and durability.
VBC or Vitale Barberis Cononico is not just one of the biggest fabric developers in Italy they also have been in collaboration with The Makers for more than two decades. With their strong seasonal and NOOS collection of high-quality fabrics, they are Combining tradition with innovation.
Looking at their production process you can see that they are becoming more sustainable every day. For example, they are double recovering their wastewater in the manufacturing process and giving back by supporting and investing in environmental projects.
While being known for its classic and trustworthy colors they create suits in their signature color blue, navy blue, black, and greys. The pastel colors we communicated earlier this season are also coming from VBC. Colors that many believe every man should own at least one suit in. Their fabrics are as timeless as ever.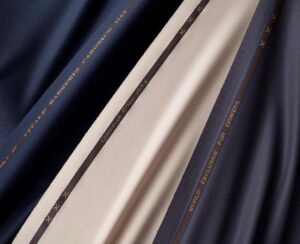 11-04-2023