Sometimes, nothing beats the feeling of winding down after a busy day with a TV series. From the many series that you can binge watch on Netflix, HBO, SkyShowtime, Prime Video, and elsewhere, we selected a few of our favorites that also inspire us style-wise. First up is Peaky Blinders on Netflix.
Peaky Blinders is one of the few series that is honestly stylish and influential on fashion. It's masculine, classy, elegant, and rugged. It's so successful that creator and writer Steven Knight founded Garrison Tailors with some friends, inspired by the series.
For people who are unfamiliar with Peaky Blinders, here's a short history lesson. The Peaky Blinders were a street gang based in Birmingham, England, which operated from the 1880s until the 1910s. The group consisted largely of lower- and middle-class young men.
Gang members wore signature outfits that included tailored jackets, large overcoats, silk scarves, bell-bottom pants, leather boots, and flat caps. They included heavy wool coats in dark tones, tweed three-piece suits, shirts with penny collars, and pinstripes. The clothing of the men in the Peaky Blinders series is classic and almost timeless. The distinctive 1920s style that plays a major role in this popular series influenced contemporary fashion from the very first episode.
Credits: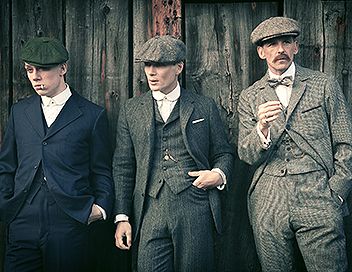 30-12-2022